If you're looking for instructions on how to start a blog but are not sure where to begin, you came to the right place. In this guide, I will take you through 7 steps for starting a blog.
I recommend reading through the entire post at least once prior to getting started. This will give you an overall understanding of the steps you will need to take to start a successful blog.
What is a blog?
Short for "Web Log," this term refers to a list of journal entries or articles posted on a web page. All blogs are websites but not all websites are blogs.
How To Start A Blog: Getting Started
Before you can begin, you need a platform on which to create. As of 2020, WordPress powers 97% of all blogs on the internet according to Built With and nearly 40% of all websites.
It is the biggest, best, most supported CMS (content management system) available.
But WordPress isn't the only blogging platform available; there are many others. Some popular free alternatives include:
For this tutorial, we are going to explore blogging with WordPress. There are two types of WordPress blogs; hosted (WordPress.com) and self hosted (WordPress.org). There are advantages and disadvantages to both. (This is a self hosted WordPress blog.)
WordPress.com Vs. WordPress.org
| WordPress.com (hosted) | WordPress.org (self-hosted) |
| --- | --- |
| Free | Some expenses |
| Limited theme support | Full theme support |
| No plugins allowed | All plugins allowed |
| Limited monetization | Freedom to monetize |
| Pay to remove branding | Branding |
| Limited SEO control | Full SEO control |
| Limited analytics | Powerful analytics |
| No maintenance | Regular maintenance |
As you can see from the chart above there are some major differences.
WordPress.com is completely free but you are severely limited to what you can do. If you are starting a blog as a hobby, then this is the better choice.
With WordPress.org you have full control over your site. If you're goal is to make money blogging, then you need the self hosted version from WordPress.org.
Getting Started With A Self Hosted Blog
You will need two things for setting up a self hosted blog; one is a domain name and the second is hosting.
What is a domain name?
A domain name is simply your website address ( ours is wpexplaind.com). You can purchase a domain name from a registrar. Namecheap is our go to domain name registrar. (.com's for only $8.88 per year)
Choosing a domain name
You want a domain name that is short, easy to pronounce, easy to remember, and is also relevant to the topic you plan to write about.
Learn more about domains and where to purchase one.
If you are writing about dog training tips, you want a domain name like dogtrainingtips.com or something closely related.
The name you want may not always be available so you will need to do some research. Choose a domain name that best reflects what you will writing about.
Once you have purchased a domain, the next step is to secure hosting.
Secure Hosting
For hosting on a budget, we recommend Siteground hosting; plans start at $6.99 per month. For more information, read our Siteground hosting review.
Learn about the different types of hosting and our recommended providers.
They will guide you through the installation process. If you still need help read their post "how to install wordpress".
For a more robust hosting environment we recommend Flywheel starting at $15 per month for a single site. It costs more money but it comes with performance benefits. For more information read our Flywheel hosting review.
Once you have purchased a domain name, secured hosting and installed WordPress, you are ready to venture into blogging.
How To Start A Blog In 7 Steps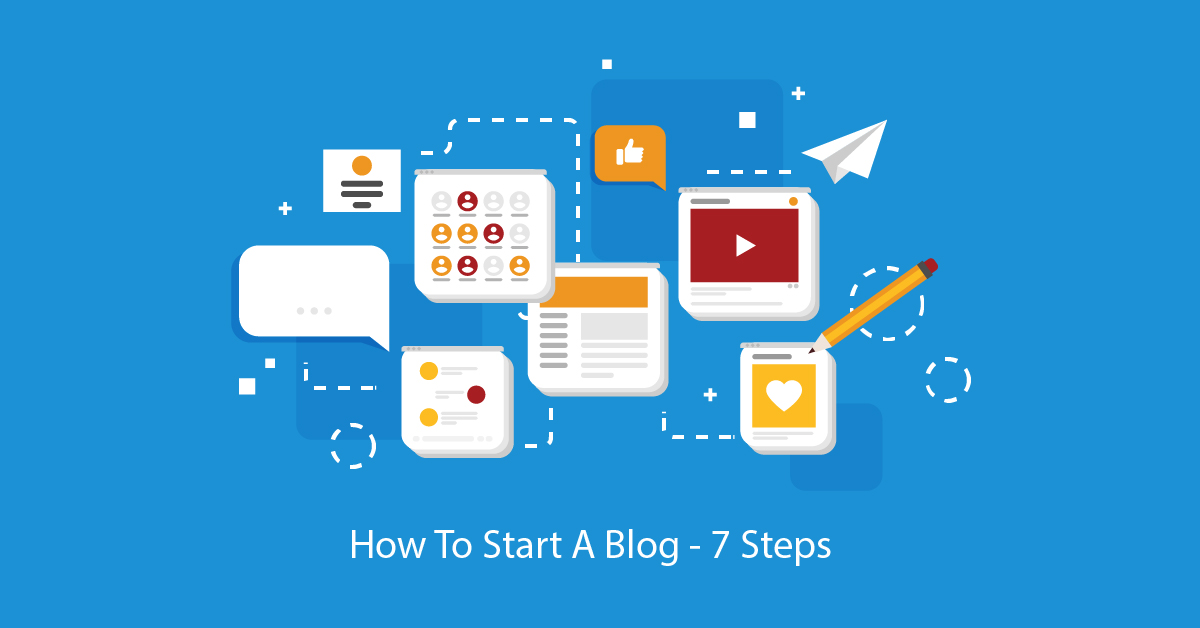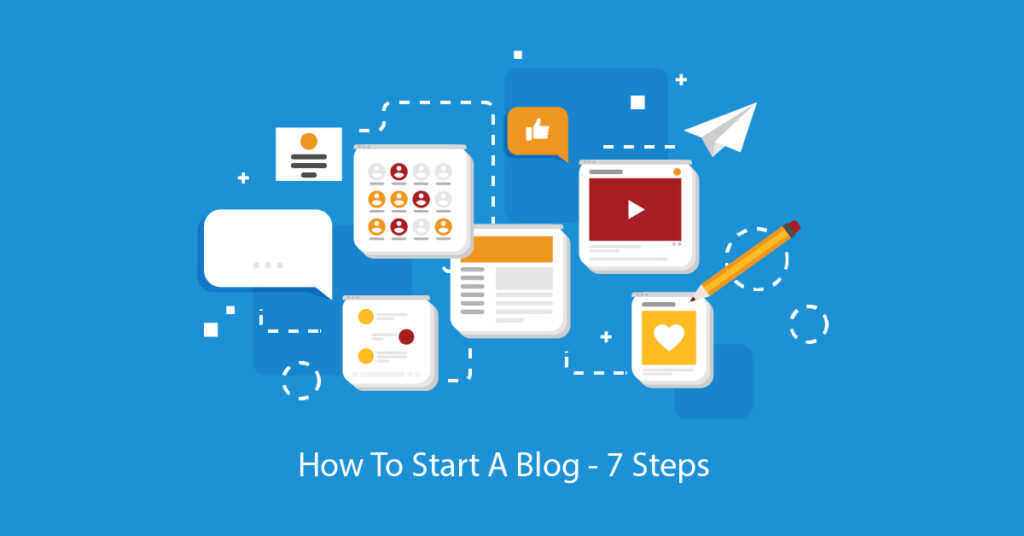 Step 1: Choose a Niche
Sometimes the most difficult part is deciding what to write about. Let me make this simple for you; choose something you are passionate and knowledgeable about. This will make blogging incredibly easy for you.
If you do what you love, you will never work a day in your life- Mark Anthony
Try to be as niche specific as possible. Dog Training tips is a relatively broad niche. Try choosing something more targeted by focusing on a specific breed of dog like "German Shepherd training tips".
This will give you a more targeted audience.
Step 2: Create Categories
Next you will create a category that revolves around your niche. If we keep with the dog training example you could create categories like:
Training tips
Commands
Tutorials
These are just examples but I think you get the idea. Categories are a way of grouping content together. They symbolize a topic or group of topics that are connected to one another in some way.
Sometimes posts can be in multiple categories
Create one category for now and focus on building out content in that category. You can expand later on once you have built up some authority.
Tags are another way to group content together.
Categories are meant for broad grouping of your posts and tags are meant for more targeted grouping.
Step 3: Generate Post Ideas
The next step involves writing down a bunch of ideas that you would like to write about; these should revolve around your topic.
When writing down these ideas, think of each post as a page in a book that all link together to tell a much larger story. This is how you will build an audience which is ultimately your goal when starting a blog.
Having an audience is the key ingredient to generating an income. There are plenty of ways to monetize once you have one and we'll get into that later.
Note: This will take some time but with hard work, dedication, and some direction, you will be well on your way.
Once you have some ideas written down, you can move on to keyword research.
Step 4: Keyword Research (Important)
This is often the most difficult and neglected step for beginners.
Please DO NOT skip this step!
If you want your blog to be found by search engines, you first need to do some research to make sure there is a demand in search volume for what you will be writing about.
For best results, choose keywords with low competition.
There are many SEO tools for keyword research but a lot of them return so much data, that it is often difficult for a novice to decipher.
So with that in mind, I am going to recommend a cost effective, easy to understand tool that returns only two metrics; search volume and competition. This will make getting started easy.
Keywords Everywhere is a chrome browser extension that will give you the basic information you need to get started and it only costs ten bucks. That ten bucks will give you enough credits to provide access for quite some time (around 1 year depending on how much you use it).
Alternatively you can use Google Keyword Planner. (You will need to set up an ad account with Google to use this, but don't worry you don't have to run any ads).
Research Keywords For Your Posts
Perform searches for all of the post ideas you wrote down in step 3. Take note of the numbers or add the results to a spreadsheet.
Your target search volume should be > 500 but ideally greater than 1500 monthly searches. The competition scores in "Keywords Everywhere" range from 0 to 1. Ideally with a new blog you want competition levels that are .3 and below.
Finding terms with such low competition may not always be possible depending on your niche.
Try and find as many Keywords for each post that you can. A keyword is just the way in which someone asks "Google" a question.
It is also referred to as a query.
Before writing a single word, perform all of your keyword research. Next we will map all of these keywords to posts you plan to write about.
Mapping Out Your Keywords
Keyword mapping is the process of defining which keywords you are going to target for each post. It helps you create a clear strategy, identify gaps in your content, and avoid keyword cannibalization.
Keyword cannibalization is when two or more of your pages compete for the same target keyword. (Google doesn't like this)
Step 5: Install an SEO Plugin
Squirrly SEO is an all in one SEO tool. It allows you to perform keyword research directly from your dashboard, uses Artificial Intelligence to guide your SEO strategy, and provides a 14 day journey to help get you started.
I use Squirrly SEO in combination with Keywords Everywhere.
It comes equipped with "briefcase", storing all of your keywords so that they are ready to use and can be inserted directly from the WordPress post editor using what they call their "blogging assistant".
Learn more about Squirrly SEO!
Alternately, you can use Rank Math.
Step 6: Write Your First Post
Now that you have a list of keywords for all of your posts, it's time to write your first post. Choose a keyword that makes sense and incorporate that in your title and a few times throughout your content.
Using your SEO plugin, whether that be "Squirrly" or another alternative, optimize your post for your keyword."Squirrly" calculates how well your post is optimized based on a percentage. Get as close to "100" as you can. If you can reach the high 80s you're doing well.
The first post you write about is going to be used as your focus page. Your focus page should have high monthly search volume and low competition.
What Is A Focus Page?
Think of a focus page as the foundation of your content that you will build all of your other content around. This is necessary for Google to see you as an authority on the topic and achieve first page rankings.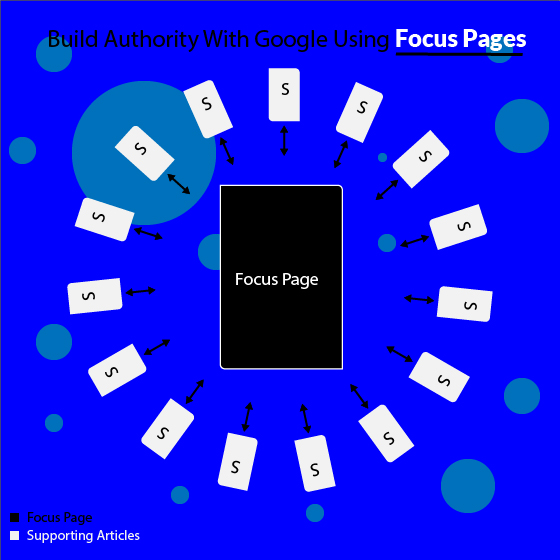 A Focus page is a long form article that broadly covers an entire topic and links out to supporting articles that further explain each concept in more detail.
These articles then link back to the focus page creating a closed loop. This is good for on page SEO.
Step 7: Promote Your Blog
This is another step that is often neglected. Your blog isn't the field of dreams. Just because you build it, doesn't mean are going to have a flood of new traffic eager and willing to consume your newly created content. You need to do some promotion.
Ideas to Promote your New blog
Share to all your personal social media profiles
Create business profiles
Create a FB group around your niche
Create YouTube videos around your topics
Join related groups and answer questions
Conclusion- Final Thoughts
Starting a blog can seem like a daunting task for anyone just starting out. It will require hard work and determination to be successful. Careful planning and execution will make you stand out from the crowd.
FAQ's For Starting A Blog
If you have any questions, feel free to leave a comment below. We may even publish it as a frequently asked question.
How long does it take to start seeing results?
You can start seeing some results after 3- 6 months, but the real results will come after 1 year.
Who is the highest paid blogger?
Moz: $44.9 million per year.
PerezHilton: $41.3 million per year.
Copyblogger: $33.1 million per year.
Mashable: $30 million per year.
TechCrunch: $22.5 million per year.
Envato Tuts+: $10 million per year.
Smashing Magazine: $5.2 million per year.
Gizmodo: $4.8 million per year.