Everything you would expect out of a managed WordPress host. When you sign up for Flywheel hosting, your site will be hosted on a VPS. No shared servers here! They're built with speed and security in mind, so rest easy.
First off, I want to start by saying that I am a current customer of Flywheel! In fact this very site is hosted with them. In this article I will review 4 important metrics; ease of use, features, support and price. so let's get to it.
Ease of Use
Right off the bat when you login to Flywheel you are presented with a modern, streamlined dashboard; everything is at your fingertips.
As you can see on your right you have one click login to your WordPress dashboard and on your left… overview, plugins, performance, stats, backups, and staging.
Overview
From the overview tab you can add collaborators, each with their own login. This is great if there is more than one person developing the site.
Plugins
From the plugins tab you can see all of the plugins installed on your site whether or not they're active, up-to-date and which version you are running.
With the plugin add-on (optional), you can have all of your updates taken care of for you. It's $25 per month for a single site and $7 for each additional site.
If you are managing many sites and just do not have the time to take care of updates yourself or simply do not wish to do it yourself, then this is an option.
Performance
The performance tab is another flywheel add-on (optional). It costs $25 per month for the first site and $2 for each additional site.
Performance insights highlight where your site is operating well and where opportunities exist to speed things up. Essentially this is a performance test similar to GTMetrix that is tracked regularly.
Stats
The stats tabs shows a graph of all of your site visits, storage and bandwidth usage. You can filter the results for the current cycle, this month, last month and last two months.
This may be useful at quick glance but for more in depth analytics I suggest Google Analytics.
Backups
No host is complete with daily automated backups. Visit this tab if you ever need to restore your site with one click.
When you select a backup to restore, you are presented with a confirmation popup and asked for your login credentials so be sure to have those handy.
In addition to automated backups, you also have the option to create manual ones. It's as easy as clicking the plus sign on the right hand side of screen, giving it a name, and clicking the "create backup" button.
Staging
And last but not least the staging tab… When you create a new site you will need to enable staging. Once you do this will where you will be able to gain access to your staging environment.
This is useful for testing new plugins or making major changes like site redesigns before you take them live. Doing so in a staging area helps you to avoid a catastrophe and lets you test changes without interruption to your current visitors.
Features
Flywheel has many features all of which were built specifically with WordPress in mind.
WordPress pre-installed
Server side caching
Free CDN (Fastly)
Free SSL
Staging Environment
Daily backups
Blueprints (exclusive)
Local (exclusive)
Premium Studio Press themes
Feature 1- WordPress is Pre-installed
This takes the hassle out of having to install it yourself. One less thing to worry about.
Feature 2- Server Side Caching
This is a pretty standard feature that is offered by most managed wordpress hosting providers. It helps to reduce the load on your server and as well as speeding up your site.
Feature 3- Free CDN
This is another feature that has become common practice among hosting providers. Flywheel CDN is powered by "Fastly".
A CDN speeds up page loads for your visitors by creating a static copy of your site and distributing it to servers all over the world. Now your site will be served from the server location closest to the visitor requesting the page eliminating the need to travel long distances to deliver the information.
Feature 4- Free SSL
With Google flagging any unencrypted sites as "unsafe", having SSL is no longer optional. This is a must have regardless if you are involved with ecommerce or not.
Recommended reading: What are Google Core Web Vitals
Feature 5- Staging Environment
Flywheel hosting offers one click staging so you're free to test out new plugins, updates, or redesign your site without the risk of breaking your site.
Feature 6- Daily Backups
In the event that your site does go down, you always have an up to date backup that you can restore with one click.
Feature 7- Blueprints
Is there a set of plugins, theme and core settings you use with every new build? Blueprints save you time by allowing to effectively spin up a new site with ease.
Save all of your core plugins, theme, and settings in a blueprint thus eliminating the repetitive process of having to do it every time.
This is a unique feature to Flywheel hosting and a must have for developers!
Feature 8- Local
Local by flywheel is an app that creates a local installation of WordPress on your computer. Use this as you develop your site before you take it live!
Feature 9- Free Studiopress Themes
Get premium Studio Press themes and the genesis framework with any plan.
Support
No matter where you are in the app you will be able to access real-time support with a single click using their help box.
You will have access to expert WordPress advice from real humans 24/7 365. Flywheel's support is top notch!
Free Migration Service
Ready to switch but don't want the hassle? Their experts will take care of it for you. Don't mind doing it yourself?
They also offer a custom wordpress plugin that allows you to do it yourself and is provided to you at no cost.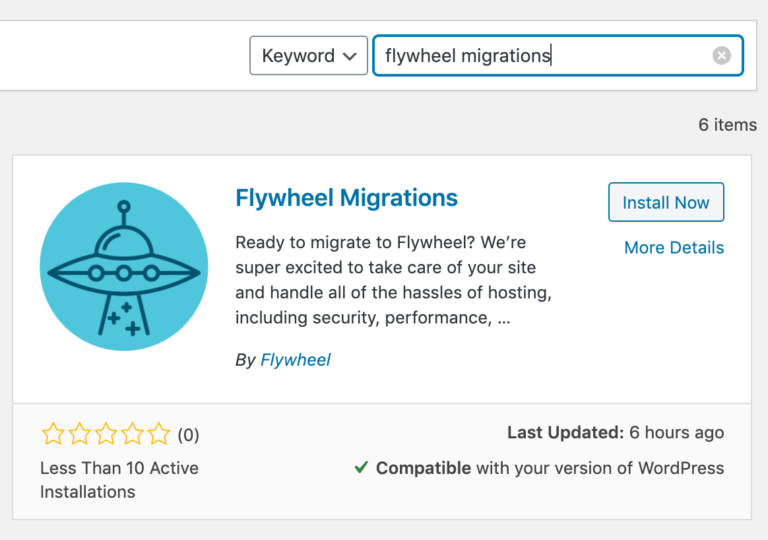 Price
They offer 4 plans; tiny, starter, freelance, and agency. You have two billing options monthly and yearly. (The yearly option includes two months free.)
Pros and Cons of Flywheel
Sign up for Flywheel Hosting
Flywheel is an industry leader VPS cloud hosting platform.