What is hosting? As we described in "what is a domain name" a website consists of a collection of files and folders. In order for those files and folders to be publicly accessible, a web host stores these files on a hard drive called a server.
There are different types of hosting; shared, VPS, and dedicated. Each of them allocate a specific amount of memory and resources to store your files.
This is the step two for building a website and is part of the WordPress Fundamentals mini course.
Prerequisites For Building A Website:
What Is Hosting? Web Hosting Analogy
If you compare it to renting an office space, shared hosting would be the equivalent of renting a cubicle surrounded by other cubicles in an office space (not the most ideal working environment).
A VPS (virtual private server) would be like renting an office in that same building, (this environment will allow you to be more productive while still sharing the cost).
A dedicated server would be like renting the entire building (this environment provides the most resources, but 100% of the cost falls on you).
Which one is right for you would be dependent on the needs of your business.
Different Types Of Web Hosting
Shared Hosting offers the lowest tier of memory and resources, but is also the cheapest. As the name implies, all of your resources are shared with other websites.
This level is perfect for beginners but isn't the best in terms of performance. You can always upgrade later as your visitors increase.
Siteground is our choice for this level. Read our Siteground review for more information.
VPS Hosting is more expensive but is also a step up from shared. Rather than sharing all of your resources with everyone else, you have a certain amount of memory and resources dedicated to your website, and yours only.
This level offers better performance. This is the kind of hosting that we use here at wpexplaind.com
Flywheel is our choice for this level. Read our Flywheel review for more information.
Dedicated Hosting offers the greatest amount of resources and is for enterprise level businesses. ( large websites like Amazon or Facebook).
A lot of companies are now offering what they call Managed WordPress.
What is Managed WordPress?
Providers have created something they call Managed WordPress which specifically caters to the needs of WordPress. There are managed WordPress plans that are on the shared level (Siteground) as well as VPS level (flywheel).
Typical Managed WordPress Features
WordPress comes pre-installed (this takes the hassle out of having to install it yourself)
Free SSL (ensures that your site is secure)
Free CDN (helps with performance)
Caching (helps with performance)
Staging (replica of your website for testing changes)
And more…
Sign Up For Hosting
Once you have purchased a domain name, the next step is securing a hosting company. If you have a limited budget, we suggest using a shared plan. Siteground offers 3 plans; start up, grow big and go geek.
For more information on Siteground read our review.
If you have a slightly larger budget and want the added performance benefits you may want to consider flywheel VPS. For more information on Flywheel read our review.
Siteground Plans
As you can see below, they offer 3 plans, each allocated with a specific amount of resources and features.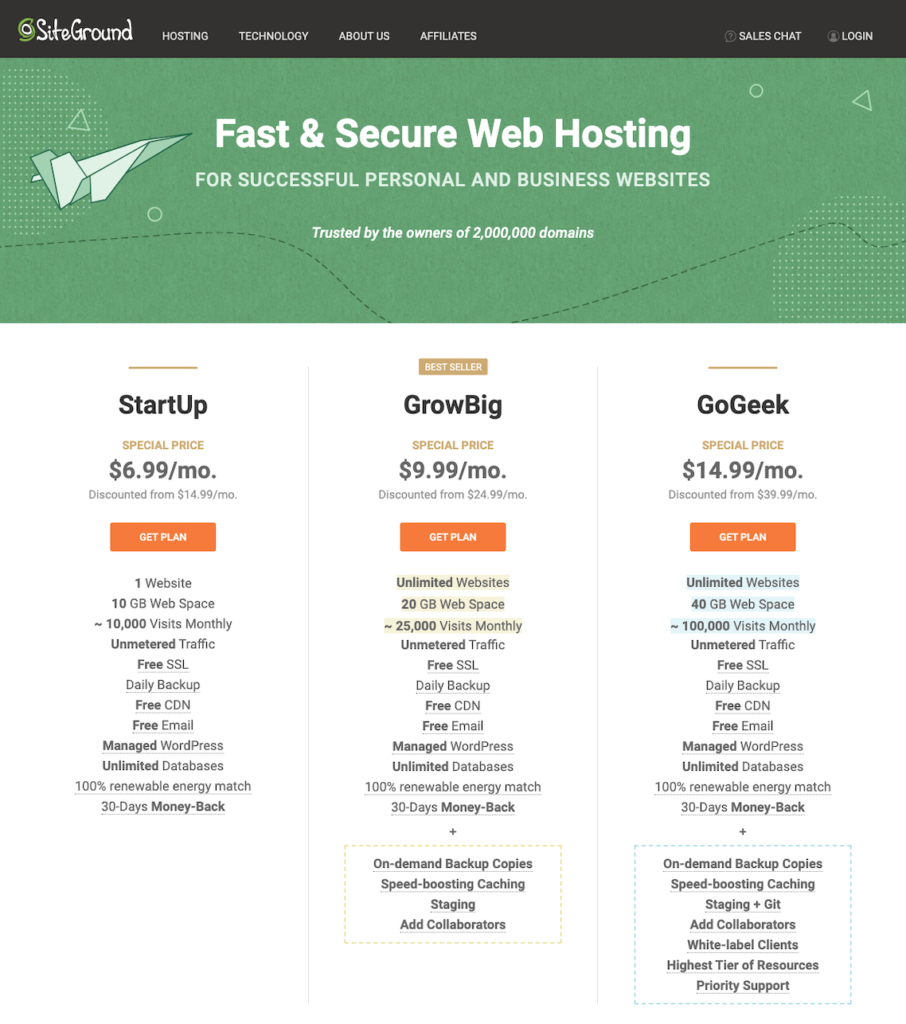 As you can see the most popular plan is the "Grow Big" plan and is the one we recommend even if you only plan to host one website, but choose the one that fits your budget.
In addition to everything in the startup plan, "Grow Big" offers you server side caching (important for performance), staging (a copy of your site where you can test changes), the ability to create backups on demand, and much more…
Sign up for hosting with Siteground.
Visit Siteground and view the managed WordPress plans, select the plan you wish to sign up for and go through the checkout process.
Next Steps
Once you have purchased a domain name and secured hosting, the next step is to create a new website and install WordPress.
Frequently Asked Questions