Make it easy for your customers to find what they are looking for with Jet Search. Narrow down the results with any post type or taxonomy. Display your results visually in real time.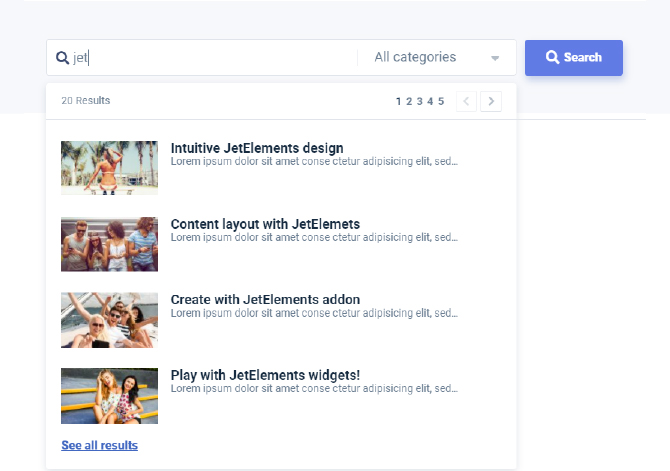 Can be purchased individually or as part of a set.
The best search plugin for WordPress comes with one widget but it is extremely customizable.
Who This Is For?
This can be useful for anyone looking to improve the search capabilities on their website. This is especially useful is you have a large blog or ecommerce site where your customers may need to find information or products quickly.
Features
Ajax
Narrow the results
Visual results
Relevance
Pagination
Ajax: Work faster with an ajax based widget.
Narrow the results: Allow users to search by custom post type, custom taxonomy, or even the default tags or categories.
Visual results: Customize the post thumbnail to show directly in the results
Relevance: Make the most important results show up as the first ones when the visitors make a request.
Pagination: Use pagination to view the results.
Conclusion
Standard WordPress search is limited and not very useful. Using ajax based allows you to display results in real time and allows your customers to find what they are looking for quickly.