Jet Engine provides everything you need to take your website to the next level. It supports both Elementor and Gutenberg. This plugin is comparable to Advanced Custom Fields or Toolset. Check out this feature comparison against other tools.
Option for a lifetime license by purchasing the entire Crocoblock set.
Create dynamic content for Elementor.
Jet Engine Features
Easily create custom post types
Custom taxonomies
Custom fields and meta boxes
Listings
Forms
Profile builder
Relations
Option Pages
Modules
There are ten different modules for this plugin so there is a lot that you can do with it. By default there are only a couple of them active upon installation.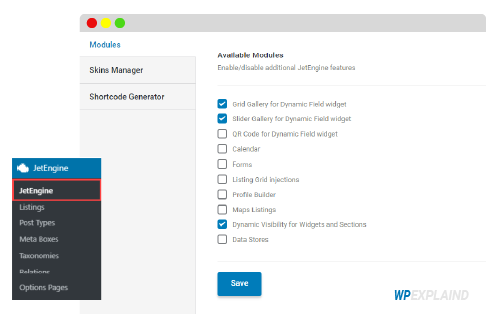 Custom Post Types
WordPress ships with a few different post types out of the box; the two mains ones are "posts" and "pages". Every plugin you add, may add a post type of their own.
For instance, WooCommerce adds a post type of "products". But what if you wanted to create one of your own?
Jet Engine add this ability in an easy to use interface. There is also a way to do this without a plugin but that is beyond the scope of this post.
Custom Taxonomies
Taxonomies are a way of grouping content together. I'm sure you're familiar with two already; "categories" and "tags".
There may be instances where you want to create your own taxonomies and this plugin makes that easy to do.
For example, I have created a custom post type called Elementor Addons. I have also created a custom taxonomy called "Features" specifically used for this post type only.
Custom Fields
Fields are just a way to enter information about a post. Examples are title, post content, featured image, etc…
There are 7 additional fields in this post.
Addon price (price in dollars)
Lifetime License (yes or no)
Free version (yes or no)
Addon name (name of the addon)
Link (the URL)
Creator (who developed the plugin)
Widgets (number of widgets included)
Every time I create a post, I enter all of this information in the fields and I display these values in my post templates and listings dynamically (they change for every post).
Listings
Listings are displayed on your archive pages and typically include post title, thumbnail, and summary. Listing grids allow you to change how the information is presented and add additional information.
For example, in my "Elementor Addons" archive, I have included 4 custom fields, the title, and thumbnail for each listing.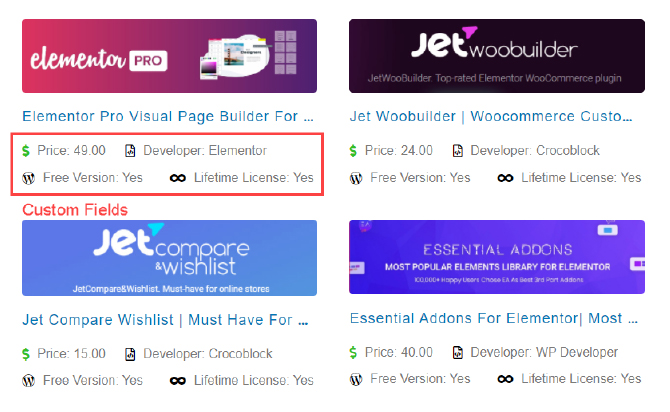 You can see the following fields: price, developer, whether or not there is a free version of the plugin and whether or not they offer a lifetime license.
For more information, they would need to click through to the post.
Forms
Jet Engine also has a powerful forms module. Build any type of form imaginable; registration, contact, feedback, order, any type of form you can dream of.
Create step by step form submissions, use them for calculations, and enable smart notifications. Comes with 12 field types.
By default it is toggled off so if you plan to use it you need to toggle it on in the settings panel.
Profile Builder
Build a user-editable profile with an unlimited number of account pages. Customize the Elementor-built templates and/or JetEngine listings, set different privacy settings for user account pages, and much more.
Front end Posts Submission
Enable users to add posts to your website on the front end through a simple form submission. There are many applications for this feature.
Imagine you have a property listing site and want users to be able to list their property for rent or for sale. You can do that without needing them to have access to the backend of your site.
Another example would be to allow user generated blog posts. Medium does this very well.
Conclusion
Jet Engine allows you to create dynamic content for Elementor; custom post types, taxonomies, fields, user profiles, listings, and much more. I have just scratched the surface of what you can do with this plugin.
It works well with Elementor Pro.