Enhance use engagement across your site with Jet Reviews. There are two use cases; one is to gain feedback from your customers, and second is to review products yourself or both simultaneously.
Jet Reviews Widgets
Comes with two widgets and are pretty self explanatory. The listing widget can be used for interactive feedback sections or reference only with the static widget.

Features
Predefined product specs– allow users to rate on any number of specs you define beforehand.
Multiple rating scales– use the rating system you prefer; stars, points, or percentage
Streamlined voting– bring a social aspect into play by allowing guests and customers to like or dislike.
Author verification– Assign verification types like Guest, Customer, and Shop Manager to make it clear which reviews/comments belong to who.
Review transparency– Make the Name and Email fields required and enable reCAPTCHA v3 to avoid incognito submissions.
Statistics dashboard– view stats for every post type in a clean dashboard displayed as a graph
Integrates with Woocommerce– show ratings dynamically
Statistics Dashboard
Moderate your reviews, comments, and ratings all inside a visual dashboard.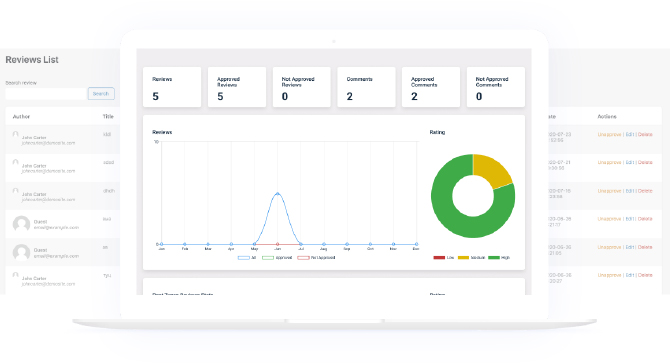 Comment list– all submitted comments are displayed as a detailed list. Approve, edit or unapprove any comments.
Review stats– a full visualization of all comments, reviews, and ratings.
Review list– Here you can approve any submitted review, undo approval, edit the review's title and text, or delete it permanently.
Custom behavior conditions– Allow users leave, upvote or downvote both reviews and comments while you stand guard over the published content.
Allowed roles– Decide who you want to be able to leave reviews and comments – Author, Administrator, Editor, Contributor, Subscriber, Customer, Shop manager, or even Guest.
For example: You may only want reviews from verified customers; people that have purchased the product. You can also allow anyone, even guests, to comment on reviews by setting allowed roles.
Dynamic Ratings For Woocommerce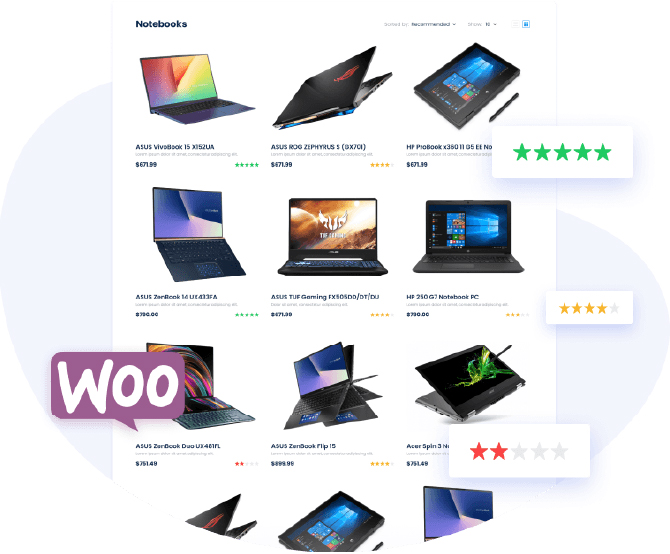 Generate social proof for your products by adding it to your single post template. Enhance your brands by showing real user data; name, profile picture, rating, and relevant stats. Filter your products by metadata on your archive pages.
Additional Features
Performance in mind– rest assured this plugin will not slow down your website. Everything is stored in a custom database and subject to a custom query which saves resources and doesn't weigh down your site.
Responsive layout– Use Elementor to create a 100% responsive layout for your reviews so they are displayed flawlessly on every screen of every size.
Custom Styling– 100% control over styling from rating scales and icons to colors, padding, label texts, typography, item gaps, and more…
Conclusion
This plugin is perfect for the following use cases: you are an affiliate reviewing products with the goal of earning a commission, or selling your own products with Woocommerce and are looking to generate social proof. It integrates perfectly with Elementor Pro or JetThemeCore.